How much does Easel Pro cost?
Easel Pro Monthly subscriptions are

$24

per month

Easel Pro Yearly subscriptions are

$233

per year

(Equivalent to a $19.42 monthly charge)

Easel Pro Three-Year subscriptions are $599

(Equivalent to a $16.64 monthly charge)
Easel Pro memberships are recurring charges. Billing will continue unless the Easel Pro membership is canceled. Additional tax may apply.
How can I sign up for Easel Pro?
There are three ways to sign up for access to Easel Pro:
You can sign up directly through Easel here
You can purchase Easel Pro on our website here.
If you purchase an X-Carve or X-Carve Pro, you will receive a 3-year membership to Easel Pro at no additional cost.
How do I cancel my membership?
To cancel or modify your membership you can go to your

Account tab

in Easel.

There, you can choose "Manage my subscription"

Scroll down and select "Cancel my subscription"




Select a reason and choose "End Subscription"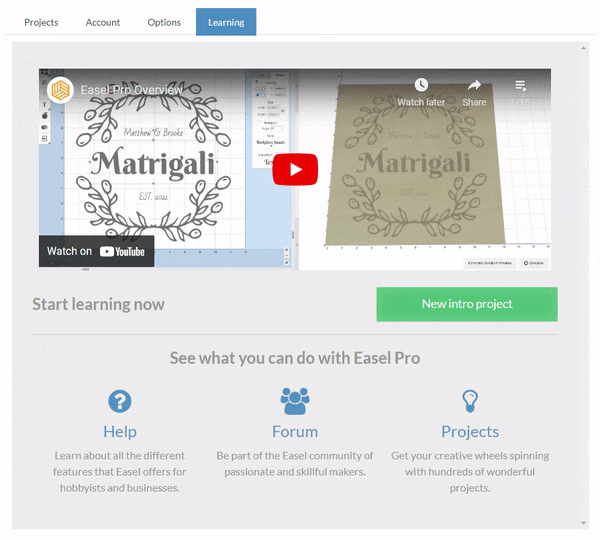 What happens to my account and my projects once I cancel?
Canceling an Easel Pro subscription does not affect your saved projects or designs.
Easel Pro access will only affect the ability to carve certain projects based on the features present in the project (Free vs Pro).

Any projects that utilize a Pro feature will not be carvable unless you sign up for Easel Pro or remove the Pro features.

After canceling a membership, you will have Easel Pro access until your current subscription period ends/expires.
How do I access the free version of Easel?
When signing in to Easel for the first time, you will start with the trial version of Pro. After 30 days, you will be automatically downgraded to the free version if you do not choose to sign up for a Pro subscription. You can always choose to sign up for the Pro version again here:

easel.inventables.com/#account
What is an Easel Pro Product Key?
An Easel Pro Product Key is a limited license (usually 1-year or 3-year) to the Easel Pro software that comes as a part of a bundle with a machine purchase (1000mm X-Carve or X-Carve Pro) or from a partnered third-party site.
The Easel Pro product key can be located on your receipt for your order or in the confirmation email.
To find your receipt via the website first go to inventables.com, log in to your account, click on the person icon in the top right of the screen, then view order history.
Once you find your order for your CNC Machine, you can open that order and/or click 'View Receipt'. In there should be an XXXX-XXXX code to activate your Easel Pro membership.
How do I activate an Easel Pro membership from an Easel Pro Product Key?
If you purchased an Easel Pro membership through a machine purchase from the Inventables website or from a third party, the membership may not activate until you enter your product key in the Account section of the main Easel menu, by clicking on the button labeled "here" under the subscription options (see below).
When manually activating a product key, you are beginning a subscription. This means it will create a recurring charge after the expiration of the key. Easel will still ask for a payment method so that it can renew and continue your access to Easel Pro. So long as the product key is entered, your card will not be charged until your subscription is set to renew.
You can prevent the renewal simply by canceling the subscription after the key has been activated. You will still have access to Easel Pro for the duration of the time left on the key when it is canceled.
Easel Pro product keys from an X-Carve or X-Carve Pro purchase will automatically activate 45 days after purchasing the machine if it is not manually activated.
In summary: Easel Pro Product Keys are activated after they are entered into the Account section of the main Easel menu along with payment information.
How do I know I am using Easel Pro and not Easel?
The interface for Easel Pro looks different than Easel. The easiest way to see if you are in Easel or Easel Pro is by looking at the top navigation bar. There are two visual cues in the navigation bar indicating that you are using Easel Pro and not Easel:
Easel Pro
Easel
How can I upgrade to an annual or 3-year membership?
To upgrade, simply go to your

account tab

and click "Change my plan".
**Please note - your next charge will be at the end of your current billing cycle.


If you have additional questions about your Easel Membership, you can contact our customer support: