Before you get started carving in Easel, you'll need to install Easel Local. This is a program that allows Easel to communicate with your machine. The first time you click the "Carve" button in Easel, you'll be prompted to download and install the latest version of Easel Local. Make sure you complete the entire installation process after downloading Easel Local to your computer.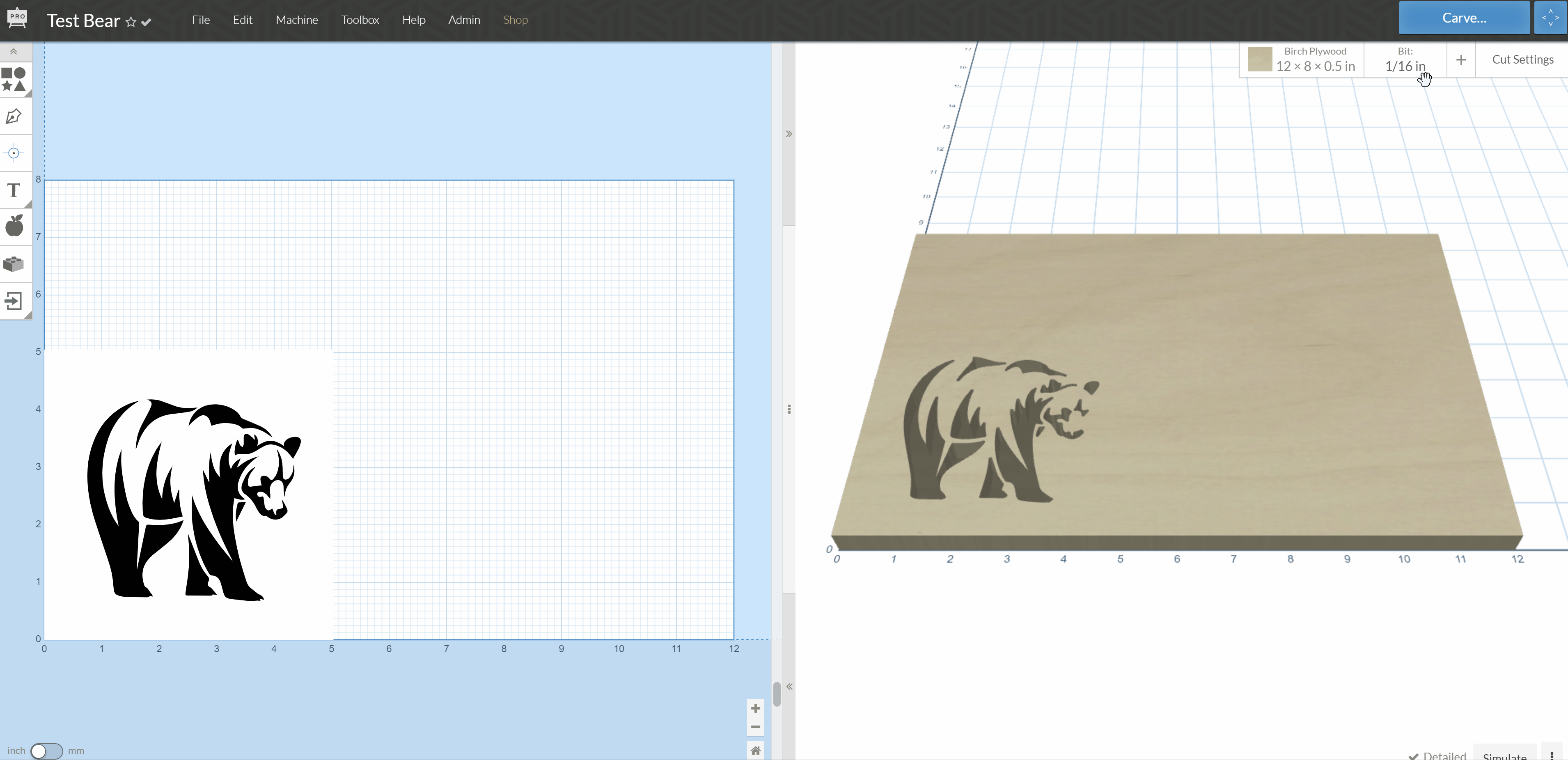 Once Easel Local is installed, turn on your machine's power supply and plug the USB into your computer. If the "Carve" button in the upper right corner of Easel is green, click "Carve" to get started! If the "Carve" button is blue, you'll need to troubleshoot a few things to connect to your machine.


Our "pre-flight" walkthrough helps ensure that everything goes smoothly with your carve. Just follow the instructions in the walkthrough: clamp your material, confirm your bit size, and home your machine in the lower-left corner of the material. You can use the Machine Controls in Easel to jog your machine along all three axes.

The home position corresponds with the black dot in the lower-left corner (0, 0) of Easel's work area. This means you do not need to always clamp your material in the lower-left corner of your machine. If you prefer, you can clamp your material in the middle of your wasteboard or start your carve away from the edge of your material. The point you select when manually homing your machine will always correspond with the black dot (0, 0 coordinate) in Easel, regardless of where you home your machine.

Click on Carve to start your project. If you have homing enabled, Easel will ask you to Home the machine or unlock without homing. We recommend homing your machine before each carve.
Once your machine is home, Easel will provide you with a checklist. This involves confirming that your material is secure, confirming your bit size, and setting your work zero position. You can learn more about homing and work zero here.
Since Easel generates toolpaths starting from the lefthand corner of your material, that's where you should jog the machine to.
Move the machine's X, Y, and Z axes using the corresponding arrows.
You can use the toggle to switch between inches and millimeters for your preferred measurement method. Click the different measurement intervals to control the machine's movement more precisely. Each time you click an arrow on the controls, it will move the distance set by the intervals.
The center of your bit should be precisely in the corner of the material.
Easel will raise the bit and you can turn the spindle on. From there, there's nothing left to do but start carving!

While your design is carving, you can keep an eye on how much the job progressed. You can also pause or cancel the job through this panel.