The device drivers sometimes are not installed automatically when you plug in the device
Click the link below to download the FTDI Chip Drivers: Install FTDI Chip Drivers
Please note: Once downloaded, open your downloads folder. You could also click on the arrow at the bottom left and select "Show in folder"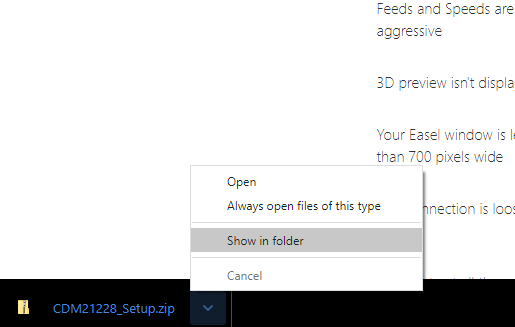 You'll need to extract the file from the zip folder, by right-clicking and selecting Extract All.
Then install using administrative privileges which can be done with a right-click.
Once it has installed, restart your computer.
When your computer boots up again, go into your Device Manager (you should be able to search your computer for this program). If the driver works correctly, you should see something under Ports. It will give you a COM number and list the device.
Remember this COM number. If you don't see anything under Ports and instead still see the USB Device > Other Device in the Device Manager, please contact us at help@inventables.com
Once you do have the device showing up under the Ports section, go back into Easel Setup via Google Chrome (not Internet Explorer). Try connecting to your machine again. If you are prompted to enter the COM port manually, enter the number from the COM Port section in the Device Manager. For example, if the machine showed up in the Device Manager under COM Port 3, enter 3 in the box and hit enter.