Congrats on making your project! We're excited you want to share your design with our community. Once you make a project, it will appear in the Projects section of our website.
You can share your project from Easel or from the Inventables Project page.
Sharing from Easel
Under the Project menu, click Share:
Your project is "Private" by default, but selecting "Unlisted" will let you share a version of your project with other people. Anyone with this link will be able to open a copy of your project for customizing and carving (your original project will be not be affected).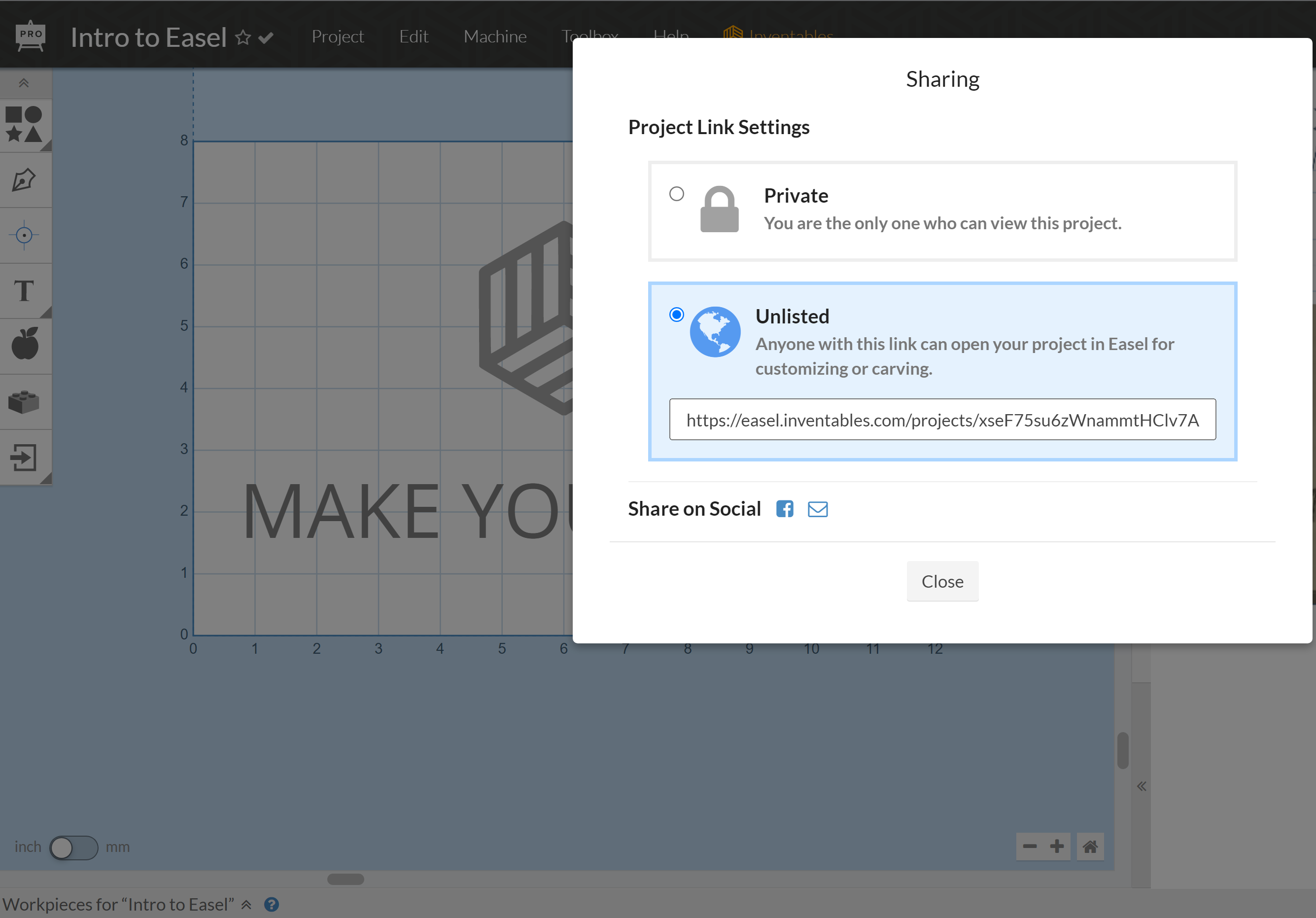 You can also Publish your project directly to the Inventables webpage. Click Project > Publish.
Sharing from the Inventables website
There are two ways you can make a project page from the Inventables website. The first way is from the Projects section. You can click "Add Your Project" to get started.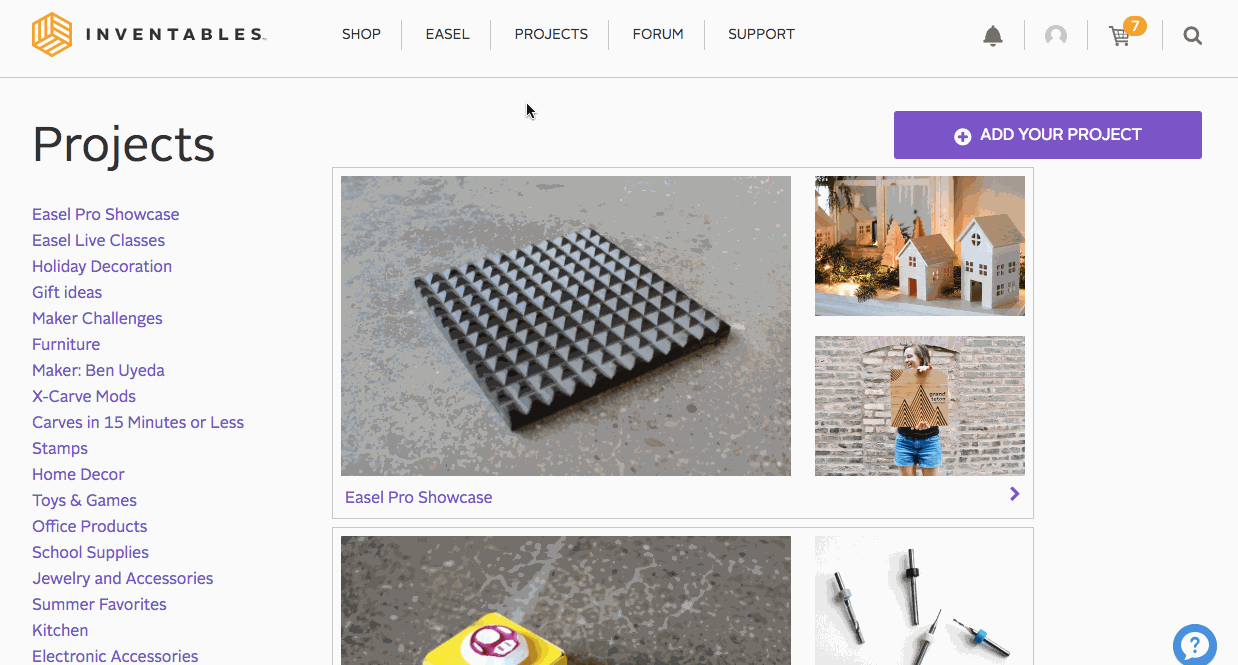 The other way to start a project is from your account menu, found in the upper right corner of every page on the Inventables site. Select "My Projects," then click the "New Project" button to get started.
Once you've created a project, you'll need to enter some basic information to get started. All the fields are required: project titles, description, at least one photo, and the Recaptcha anti-spam verification.

When you're ready, click the "I agree - Create My Project!" button at the bottom of the page to complete the next steps.
Gather all the photos you'd like to feature in the project photo carousel on your project page. Upload these to your project. You can change the order in which your photos appear once your photos are uploaded.
Make sure to choose your best photo for the cover photo: this is the photo that will appear in our main project index when people are searching for their next project to make. Save your work on the photo section to advance to the next step.
Next, we'll add in the materials you used to make your project.

You can search for any item sold on the Inventables website to add to this section of the project page. If you use a special bit (like a v-bit for an Easel Pro project or a specific type based on the material you're carving), you can add this to this section.

The search feature also allows you to pick the specific SKU of your bit or material. This comes in handy when you're using different carving materials in a variety of thicknesses.

You can also add a tool if you used a tool other than your 3D carving machine to complete the project. Some examples of what you'll find on this list are tools like a drill press or table saw.
Adding an Easel link to your project is the quickest and easiest way to share your specific Easel file with others. Don't worry: in order to carve your project, all users will need to "make a copy" of your Easel project and add it to their account. This way your original file doesn't get changed or manipulated in any way.

Before you can share your Easel file, you have to make sure that your Easel file is publically viewable. By default, all Easel projects remain private only to you on your account. Go to File > Share > "Shared with link" in order to make your Easel file viewable to others. Copy the shareable URL. Make sure to hit "Save" before closing the pop-up window.

Paste the Easel URL into the link box on your project page. The page will automatically shorten the URL to only the specific code associated with your Easel Project.

If you have another file type (like an SVG or gcode file), add it to the "Digital File" section. This will make it available for users to download.
In order to share your file with the public, you need to give Inventables the right to distribute your work. There are a variety of licenses to choose from in the drop-down menu. The default license states that you are letting Inventables (a third party) distribute your work to the public. You are also listing your work within the public domain for anyone to access for any reason.

Once you've selected your relevant license, click the checkbox to agree to the terms of the license and save your project.
Time for instructions! You can write up step-by-step instructions telling others how to make your project. These can be as detailed or general as you'd like.

Upload photos to this section that document your process. You can associate certain photos to certain steps in the instructions, allowing makers to easily follow your method. Any photos added at the top of the page will be available for you to choose for each step in the instructions section.

You can add as many steps as you'd like. For each step, add in the step title, how long the step takes to complete, and a description of the step. The up and down arrows at the top of each step rearrange the sequence of the steps.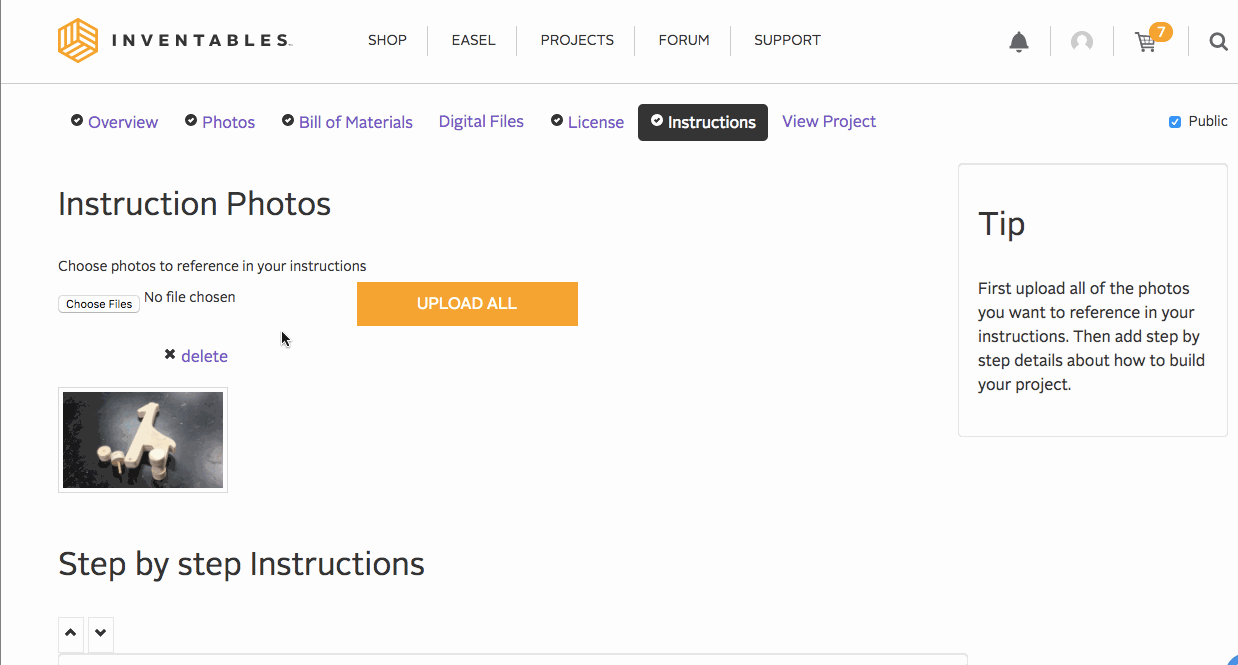 For each step, you can select the specific photos (uploaded at the top) that correlate to a specific step in the instructions.

You can also add in a YouTube video URL if you want to embed a YouTube video into the instructions. Adding a YouTube URL will embed the video into this step of your instructions.
At any point during your project page construction, you can click the "Public" checkbox to make your project public (available to everyone) or private (viewable only to you). Once you have started making a project, it will automatically be saved as a publically-viewable project.

When you want to see what your project looks like, click "View Project." This is exactly how your project appears to visitors on our site.

If you want to go back to editing your project, click "Edit My Project" at the top right of your project page.
Congrats! Your project is live!

You can always view all your projects by clicking into "My Projects" from within your account menu. This is the fastest way to change or update an existing project.