Adding Elements
Not sure where to begin?
Adding an existing element
to your project helps creative juices start flowing.
Shapes
Simple shapes—square, circle, triangle, and star—are the building blocks of great designs. Click on a shape from the top toolbar to add it to your project. You can then
adjust the size
and
cut depth.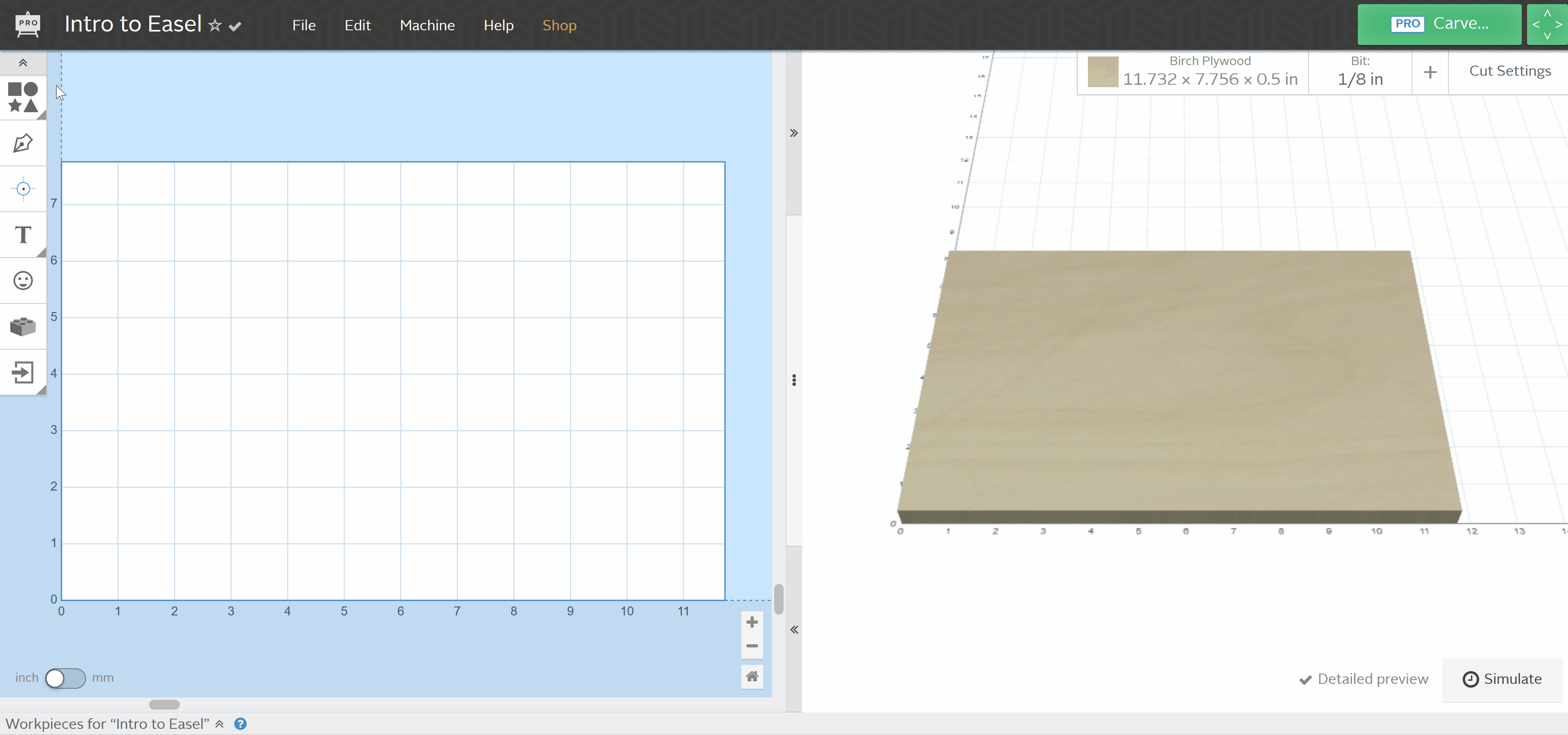 Icons
Every icon in our extensive library is free for personal and business use without purchasing additional licenses. Select the perfect design from the Icons menu in the top toolbar.



Image Import
Import in your favorite logo, family photo, or other images for easy carving—
no advanced design skills required.
See full guide here:
File Import Guide
Text
Got something to say? Use our easy text editor and say it with style! Select a font from the Text menu, then double-click the text in the design pane to edit it.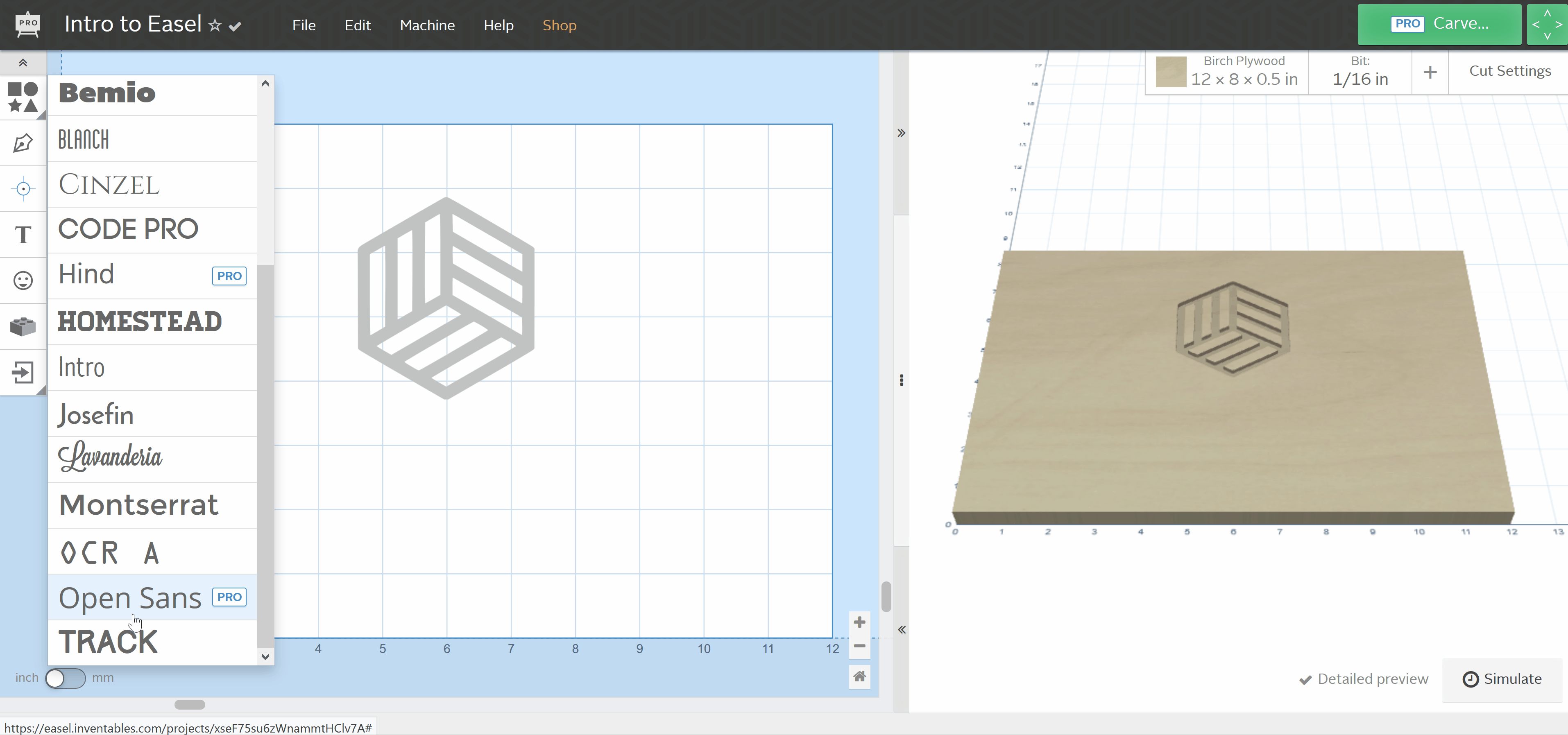 Pen Tool
With Easel as your canvas, you can
draw custom designs and shapes with the pen tool
.
To draw a shape, select the pen tool from the Easel tool menu. Use your mouse to draw your desired shape, and click whenever you want to drop a point. Double-click a point to create an open shape or line. Click on an existing point to close the shape.

Fills and Outlines
Do you want a circle or a ring? Use the different Cut Type options in the Cut menu to determine how design elements render in your project.
Don't forget to use tabs
if you're cutting out a shape!

Align Shapes
Easel's alignment tools are the easiest way to ensure your project elements line up perfectly without any guesswork. These align options appear under the top toolbar after you select multiple shapes.
Combine Shapes
Build custom shapes by
combining multiple elements together
into one element. To combine two or more shapes, hold Shift on your keyboard, and select the elements you want to combine. Click "Combine" in the Edit menu, and the shapes will become one. Now you can edit points, adjust depth, or make the shape an outline.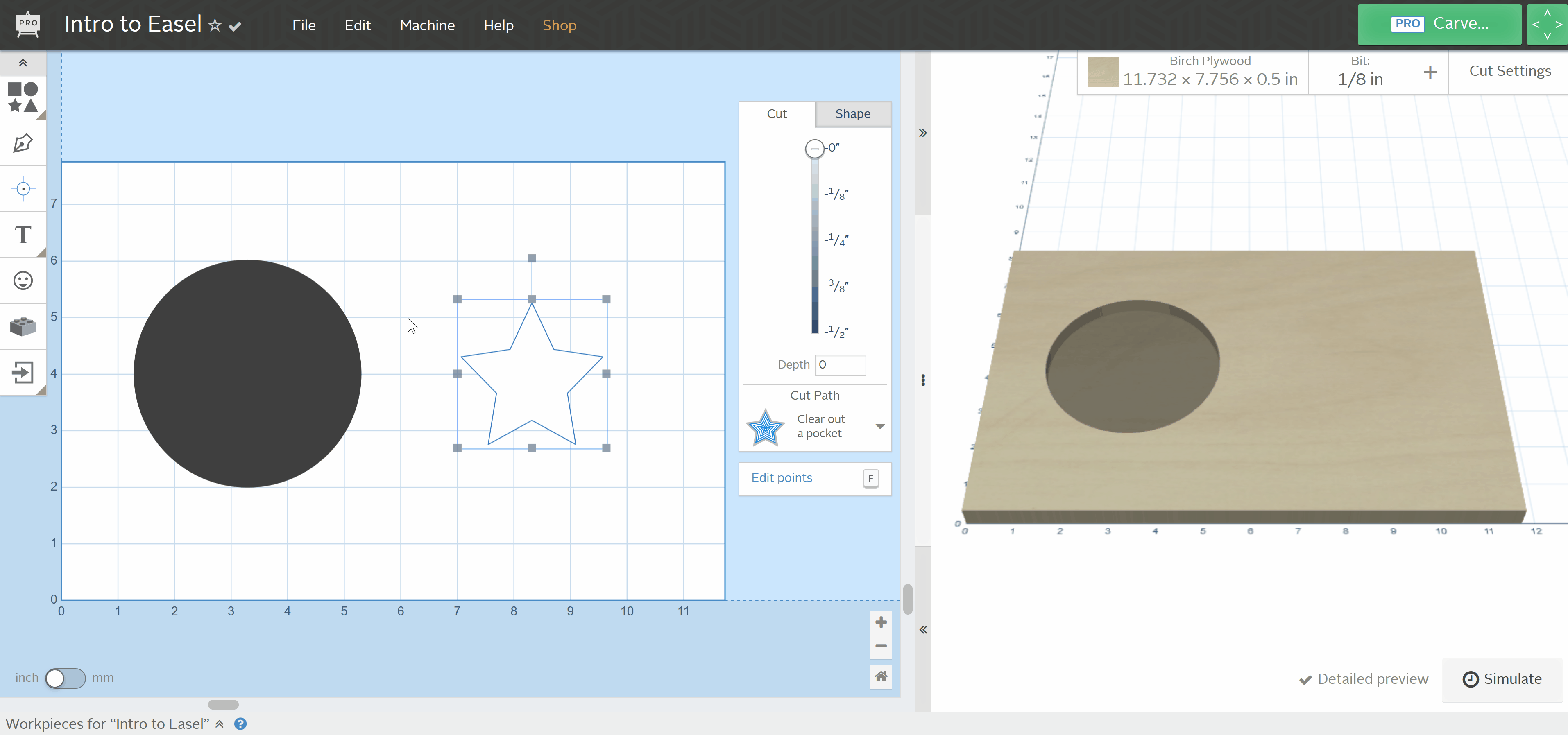 Points Editor
Whether you've imported or drawn your own design,
the point editor helps you fine-tune your project
. Select an element and click "edit points" from the Cut/Shape menu. You can move points, round corners and convert the path between two points to be curved or straight.
Layering and 2.5D
Easel is more than just a 2D drawing program. By compiling different techniques, you can explore the exciting realm of
2.5D carving
!
Stacking design elements and setting different depths gives your project complexity. Darker shades indicate deeper carves, and lighter shades indicate little or no carving.
Infinite Undo
It doesn't matter if you make one mistake or a million mistakes: Easel allows you to undo an infinite number of actions in your current project. Use Ctrl + Z (Windows) or Command + Z (Mac) on your keyboard to undo your most recent change in Easel. You can also press Shift + Ctrl + Z (Windows) or Shift + Command + Z (Mac) to redo a step in Easel.
Detailed Grid
Zoom in on the grid to expand to more gridlines for added precision.
Imperial and Metric units
Use the toggle to switch between inches or mm. You can also enter dimensions in one unit and Easel will convert to the other.